Meet the Singers
Marianne Pastelak, Soprano/Arranger: Music has always been a part of Marianne's life. Coming from a musical family, she has played the piano and sung since she was 5, and by age 12 was in demand as an accompanist for school choruses and instrumental solo events. Skipping her senior year of high school, Marianne decided to follow in her father's footsteps and become a music teacher. She graduated from Shenandoah Conservatory and began teaching vocal music in Harford County, MD, where she still teaches. Shortly after beginning her teaching career, she also became an instructor at Harford Community College and sang in After Hours, their vocal jazz ensemble, originated by Paul Labe. This group presented opportunities to sing in other areas of the US and Europe, and further deepened her love of jazz. When After Hours became the Artists-in-Residence at HCC, Marianne took over directing the student vocal jazz ensemble, renaming it Second Shift. When she realized she was so busy teaching that she no longer had many opportunities to perform, she created VO, based on her own obsession with music and singing.
Donna Amoroso, Soprano: As the least tallest member of the group, Donna is often overlooked in large crowds. In an attempt to see eye-to-eye with her singing counterparts she purchased a pair of platform shoes. Although she still doesn't "measure up" in height, she's sure those shoes help her reach the high notes. Music has always been one Donna's favorite hobbies. After singing with her local community college vocal jazz group for many years, she welcomed the invitation to sing with Vocal Obsession, which provides another great opportunity to try LOTS of new music and perform more often. She has been a vocalist and mediocre saxophonist since grade school, performing with school, church and community groups for many years. In addition to VO, Donna fills her free time participating in several music groups at her church, playing field hockey and softball, and volunteering with several community groups.
Dotti Allen, Alto: Dotti grew up in the town of Aberdeen, Maryland. She started her singing career at the tender age of 4 with her 2 older sisters. They were in great demand at their church. Dotti was 6 years old when they performed their first a cappella song. Eventually, her brother (Harry, VO's bass) joined the trio to make it a quartet. Dotti continued her singing career through her involvement with her high school glee club. (Yes, that is what they called it in those days!) She also sang in several church choirs. When she attended York Hospital School of Nursing, she performed with the school's choir. When she joined the Harford Community College vocal jazz ensemble in 1998, she just couldn't get enough of that acappella jazz. Dotti was just overcome with emotion when asked to join Vocal Obsession. When she isn't singing with the group, she works as a nurse in one of the Baltimore area hospitals. She has been caught singing to the patients on many occasions - she believes it is always good to take advantage of a captive audience.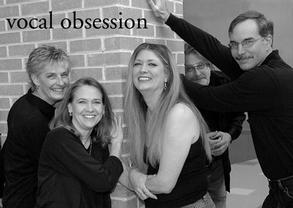 Charles Braungard, Tenor/Pitcher: Chuck, Director of Choirs at Aberdeen High School holds a Bachelor of Science Degree in Music Education from Millersville University of Pennsylvania. Since 1990, Chuck has served as the Director of the A Cappella Choir and Freshman Chorus, as well as a variety of chamber ensembles, such as Ladies Ensemble, Men's Barbershop, The Madrigals, and the Handbell Choir. In addition to his directorship, he also teaches Piano and Speech. Since 1999, Chuck has served as the chair of the Music Department. He grew up in Lancaster County, PA and although he's not Amish, many in Aberdeen believe that he is. He joined VO in the summer of 2003, after much coaxing from the tenorless group, and very quickly became designated pitcher of the group. He's not related to any other members of Vocal Obsession but instead is married to his wife, Sharon.
Harry Maloy, Bass: Harry has been singing for quite a long time. Forced to start singing at the age of 5 by his evil sisters (one of which is Dotti, VO's alto), he began doing a cappella tunes, and hasn't stopped singing since. In 1983 Harry was turned on to vocal jazz, which has been a part of his life ever since. When he is not singing, Harry spends his time working for an electronics corporation repairing ATM's, watching hours of the History Channel, and antagonizing our mascot.
Billi, Feline Mascot Supreme: Born in a garage in Aberdeen, daughter of a feral feline, Billi started out a hard life on her own. Just 4 weeks old, she was left to be raised by humans in a strange, very musical world. The cultural experiences she got from her new family prepared her for her role as VO mascot, which includes the duties of monitoring rehearsals for wrong notes, catching moths, and making sure Chuck knows who's in charge. Her energy and supernatural strength would make her perfect for manual labor, but when asked to help us load equipment for gigs, she has replied,"I can't. I'm just a Cat. I have no thumbs." (Billi is the Hindi word for "cat.")